Join Alewijnse on a technical adventure
Alewijnse designs and installs the electrical and automation systems that are vital for the large vessels that travel the world. The public will have the chance to get a taste of this maritime technology during the Alewijnse Festival of Adventure in Technology (FAT) event taking place on Friday 16 June 2023 in Nijmegen.
The FAT Open House Day will give visitors a unique opportunity to have a behind-the-scenes look at Alewijnse's premises at Energieweg in Nijmegen. There they will be able to experience the design of the electrical and autonomous systems that are installed in a wide range of  not only vessels, including large superyachts, dredgers and naval vessels, but also industrial plants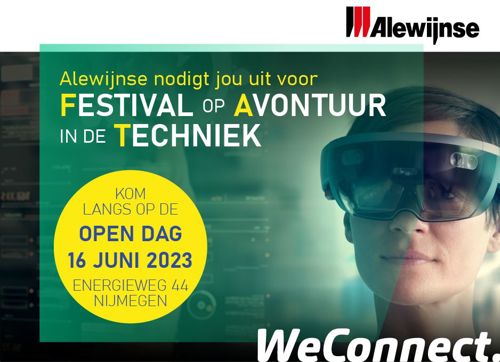 Discover technology at Alewijnse
Take a peek into the wonderful world of engineering and experience what it is like to walk aboard a vessel with VR glasses. Step behind the wheel of a dredger or learn about what it takes to become an electrician in our professional workshop. You can also measure your strength during the cable pull challenge and take part in the spectacular tyre change competition with Oryx Rallysport, led by experienced Dakar rally driver Henri van Steenbergen.
At the job fair in our experience room, our colleagues will be available to tell you all about the different types of maritime technology professions. These include those of engineer, project manager, product manager, installer and commissioning engineer. Together they design, build and install a wide range of complex systems used by shipping and industrial companies.
This is just a taste of the unique experiences that you can discover for yourself at the Alewijnse festival. Join us on the 16th of June to explore more of what Alewijnse has to offer in exciting and fulfilling careers.

Register
Are you interested in the activities at Alewijnse? Please register in time, as we are expecting a high level of attendance and enthusiasm. You can register via https://www.alewijnse.com/fat. Entrance is free.
Opening hours are from 13:30 to 17:00.
The address is: Alewijnse, Energieweg 44, 6541 CX Nijmegen.