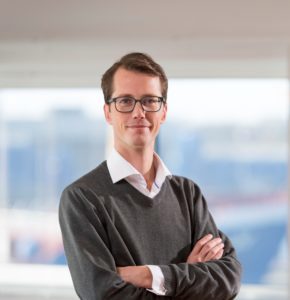 1. Where do you work and what are you working on there?
I work at OSD-IMT. OSD-IMT is a design and engineering company. I work as naval architect and project manager on the concept and basic design of tugboats and all types of offshore vessels.
2. What makes the maritime sector special to work in?
The diversity and the complexity of designing and creating vessels working together with many different companies such as shipowners and yards.
3. Why do we need a platform like Young NMT and what do you hope to achieve with it?
The Young NMT platform is ideal for me to meet people of my age in different branches of the maritime industry. This broadens my horizon on what is happening in other parts of the maritime sector. I think this is relevant and useful for any young professional in our industry.
4. How can Young Professionals contribute to continuous developments in the market
Young professionals are eager and challenge the status quo on why and how we do things. This keeps people alert on current processes and the opportunity to implement new techniques and strategies.
5. What do you think is the biggest challenge of the maritime sector and why?
The biggest challenge of the maritime sector is change. For example, you see it with the energy transition that is currently happening. It is difficult sometimes to implement new techniques because there are no applied rules and regulations available. This means you need to go through the process of creating rules and regulations. The process is a long process which requires time, money and effort to achieve. But with the right mentality and resources it is all possible!